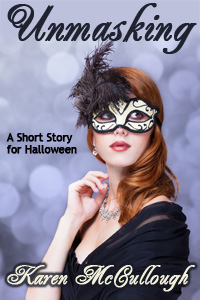 A Short Halloween Ghost Story
Paranormal with romantic elements
Length: Short Story
Free at Smashwords;
$.99 everywhere else
Amazon
Nook
Smashwords
A smart-ass ghost isn't Trace's preferred companion at a Halloween party, especially when he really is a ghost and he wants her to deliver a deadly message.
Trace Handley hates social events of any kind, but she has reluctantly agreed to go to a Halloween party to deliver an important message. Before she can accomplish the mission, though, she has to identify the intended recipient despite costumes, her own shyness, and the dubious assistance of the source of the instruction. The source is a ghost and he wants her to deliver his message to the man accused of his murder.
Reviews

"McCullough packs a lot into 20 pages and the ending gave me a laugh. I wish there were more stories featuring the same ghost. He's an entertaining guy — er — ghost."
— Pat Browning on Amazon