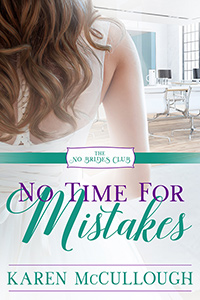 No Time for Mistakes (No Brides Club Series)
Coming Soon in ebook
Amazon ebook
Trade Paperback
As an ad designer, she puts all of her focus on her career. Now if only she wasn't so irresistibly attracted to her new client's marketing director…
When Lisa Harper is offered the career-defining job of creating an ad series for her largest client to date, she vows to get the work done without any distractions. That was before she met a member of their team who brings up painful memories that threaten to sidetrack her from her goals.
Eric has no idea that he bears a striking resemblance to the fiancé who dumped Lisa a few weeks before her wedding. Despite their tight deadline for finishing the project, the more he works with this attractive advertising exec, the more time he wants to spend with her.
As glitches and obstacles abound, Lisa and Eric are unable to deny their instant mutual attraction, but she has no time for mistakes. Can Lisa resist taking a chance with a personal relationship when her career is on the line?