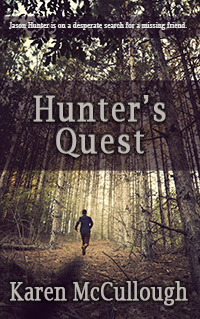 Category: Romantic suspense with slight paranormal elements
Length: Novel
Paperback: 11.99; ebook:  $2.99
Amazon    B&N    Smashwords    iTunes    Kobo
A psychic photographer's special gifts might be Jason Hunter's only hope of locating a missing friend.
Kristie Sandford's vacation is interrupted when a man jumps out in front of her car. She avoids hitting him, but when she stops to see if he's hurt, he demands she help him escape from the people chasing him. Kristie has an odd "gift"-she occasionally gets warning messages, and she gets one saying he needs her help or he'll die.
Jason Hunter is an SBI (N.C. State Bureau of Investigation) agent working on his own time searching for a friend, an investigative reporter who disappeared while tracking down rumors of corruption in the bureaucracy of a small, North Carolina mountain town. Jason is grateful to Kristie for rescuing him, but dubious when she insists she has to continue helping him. Kristie is attracted to Jason, but the edge of danger she senses in him reminds her too much of the abusive family she escaped as soon as she could. Still, the message said he'd die if she didn't help him, and the messages have been right before.