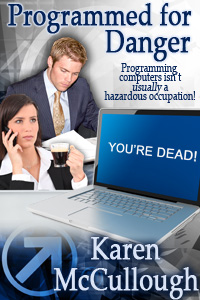 Light, Contemporary Romantic Suspense
Length: Short Novel
Originally published in 1991 by Avalon Books
Updated for re-release in 2012
Amazon Kindle
B&N for Nook
Smashwords
Computer programming isn't usually a dangerous occupation, but Andrea Kingston finds herself fighting for both her love and her life when she's hired to solve Ferverill-West Company's computer problems.
Andrea Kingston is surprised by the cool reception she receives when she arrives with her team of troubleshooters to work on Feverill-West's computer problems. It's not the first time she's dealt with people aggravated by programming flaws and hardware malfunctions. Nor is she any stranger to corporate politics and bickering. But normally people are happy to see her since she promises to fix their technical issues. The level of hostility she encounters this time is new, as is the serious nature of the incidents plaguing  Feverill-West's data processing system.
With the reluctant help of Feverill-West's attractive Operations Manager, David Purcell, Andi tackles the problems, only to discover that at least some of them are deliberate sabotage. The closer she gets to the source of the attacks, the more personal and vicious they become.
When someone knocks her out to prevent her learning anything more, Andi realizes that more than just her professional reputation is on the line. She'll have to risk her life to solve the crimes being perpetrated against the company.