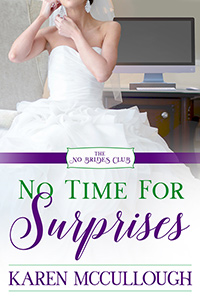 Light, Sweet, Contemporary Romance
Length: Short Novel
Amazon Kindle ($3.99 or FREE in Kindle Unlimited – New version coming soon!)
Paperback ($9.99)
When six friends make a pact not to let love get in the way of their careers, the No Brides Club is born. But could meeting the right man at the wrong time cause them to break their vows to each other?
Julie Harrison had the perfect job and a stellar reputation as one of the city's top, new programmers…until suddenly she didn't. Despite her innocence, her company blamed her for leaking secret project details to a competitor. Worse yet, her fiance took their side.
Dan Foster would once do anything to get closer to his goal of becoming company CEO. Unfortunately, that meant siding with the higher ups instead of his spurned fiancee. Now he'd give anything to rewind time and get Julie back into his arms.
When a surprise acquisition forces them to work side-by-side once more, old feelings of love and longing, but also betrayal resurface, too.
Dan wants her back. Julie isn't ready to blindly trust the ex who let her down in such a big way. Can he make up for his past mistakes and convince her to take a second chance at their future together?
Reviews:
A wonderful story about realizing that we are not perfect and a second chance may just be possible. – Michelle, Amazon Review
I loved the story and the characters and highly recommend the reading. – Juliana Ignácio, Amazon Review
The book grabs your attention and wants to be read in one sitting. Luckily this book is short enough and quick enough to read so you can read it in one sitting. It is an excellent book and is one that should be read and enjoyed. – P. Blevins, Amazon Reviews