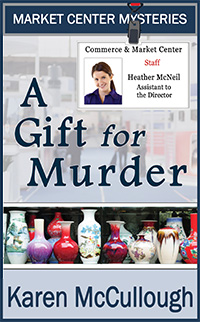 Hardcover: Five Star/Gale Group/Cengage (1991)
Mass Market Paperback: Harlequin Worldwide Library
ISBN: 978-1-59414-931-3
$7.99 MMP; $.99 ebook
Length: Novel
EBook:  Amazon   Nook    Smashwords    Kobo     iBooks
Read an article I wrote analyzing what I was trying to do with the first two pages of the book.
For fifty-one weeks of the year, Heather McNeil loves her job as assistant to the director of the Washington, D.C. Commerce & Market Show Center. But the Gifts and Home Decorations trade show, the biggest show of the year at the center, is a week-long nightmare. This year's version is being worse than usual. Misplaced shipments, feuding exhibitors, and malfunctioning popcorn machines are all in a day's work. Finding the body of a murdered executive dumped in a trash bin during the show isn't. The discovery tips throws Heather's life—personal and professional—into havoc.
The police suspect the victim's wife killed him, but Heather doesn't believe it. She's gotten glimmers of an entirely different scenario and possible motive. Questioning exhibitors about the crime doesn't make her popular with them or with her employers, but if she doesn't identify the murderer before the show ends, the culprit will remain free to kill again.
Her only help comes from an exhibitor with ulterior motives and the Market Center's attractive new security officer, Scott Brandon. Despite opposition from some of the exhibitors, her employers, and the police, Heather seeks to expose the killer before the show ends. To solve the mystery, she will have to risk what's most important to her and be prepared to fight for answers, her job, and possibly her life.
Other covers: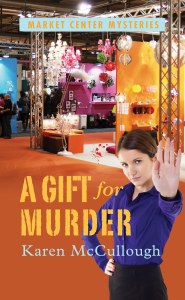 The original Five Star hardback cover (left) and the Harlequin WWM mass market paperback cover
Reviews for
A GIFT FOR MURDER
"McCullough (A Question of Fire) shows real flare in describing the hectic trade show world, including an exhibitor with a smelly, malfunctioning popcorn machine."
– Publisher's Weekly
"What a great character Karen McCullough has developed in Heather McNeil. She is genuine, likeable and a bit complex. In 'A Gift for Murder' McCullough has produced an appealing setting that reveals to the reader what occurs during a trade show. Her writing is concise; her characters skillfully portrayed and her storyline stays on track, creating a most enjoyable and interesting read. I thoroughly enjoyed every page."
– Reviewed by Connie Gregory for Connie's Reviews
"What can I say? I loved this book. It's rated as a cozy mystery, but it's got much more than that. The characters are great, the plot is wonderful and I was really into it from the beginning."
– Mary for Once Upon a Romance
"This delightful murder mystery introducing a new amateur sleuth includes some laughs, a touch of romance, and an abundance of red herrings. Heather is an engaging lead, and her supporting cast offers both contrast and balance to her role."
– Omni-Mystery News
"A Gift for Murder is a delightful mystery, with some laughs, a touch of romance, and an abundance of red herrings. Heather is an engaging lead, and her supporting cast offers both contrast and balance to her role. The murder venue presents plenty of opportunities for hiding clues in plain sight, and the author does a fine job of providing her new sleuth with the resources to get the job done. The behind-the-scenes look at what it takes to put on a convention center-sized trade show adds interest to the story without detracting from the murder investigation itself. This is a solid start to a promising new series."
– Mysterious Reviews
"Karen McCullough has got a winner in this latest mystery, and  A Gift for Murder really shows off the author's talents in both mystery and romance.  I really enjoyed the light romance along with the insight into the world of Tradeshows… who knew a week of wholesale marketing could be deadly?  But with misplaced shipments, malfunctioning equipment and feuding competitors, eveyone is stressed to the max, and the trade show becomes the perfect stage for the mystery who-dunnit.
Best of all, I sure didn't see the culprit until the very end. This is my kind of mystery, fun, breezy and skillfully crafted…a winning combination!"
– Review by All Mystery e-newsletter
"This Market Center Murders tale is an engaging tale that contains competing solid investigations and a fabulous look deep into what goes on behind the scenes to insure a successful trade show. Heather is an enticing protagonist who anchors the story line and the trade show as a cynical stable influence in the midst of chaos. The vivid glimpse at the trade show environs steals the plot from the whodunit whose spins and twists readers will anticipate in this charming cozy."
– Harriet Klausner,
Genre Go-Round Review
Read Full Review