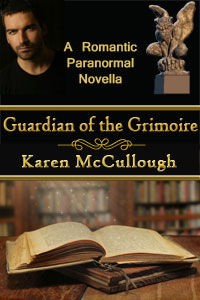 Paranormal Romance Novella
ebook: $1.99
Amazon    Nook   Smashwords   Kobo   iTunes
Librarian Jess O'Rourke already has her hands full with her father's declining and health and the under-staffed, under-funded library she runs. A new preacher in town waging war on her books is just an annoyance at first, but an attractive mysterious stranger warns her that there's more behind the reverend's campaign than she can guess. The new preacher is a human possessed by a demon and he's searching for an old grimoire that's part of an uncatalogued collection of books stored in the library's basement.
Gabriel Sutton has been the guardian of the book for a long time, a very long time, he claims, since that has been his penance for crimes he committed as a soldier during the Civil War. He convinces Jess that she needs to find the grimoire and use it to return the demon to where he belongs.
Their time gets short when the reverend realizes she's searching for the book and resorts to desperate measures to either retrieve or destroy it.
Guardian of the Grimoire is also available as part of the Books Gone Bad Bundle from BundleRabbit!