Now Available!
Ebooks Just $.99 Each for a Limited Time
Or Read for Free in Kindle Unlimited
New Editions of all the No Brides Club Books

The series includes my three books:
No Time for Surprises: https://www.amazon.com/gp/product/B0CDXZSGVM
No Time for Regrets: https://www.amazon.com/gp/product/B0CDXY6DP6
No Time for Mistakes: https://www.amazon.com/No-Time-Mistakes-Romance-Brides-ebook/dp/B0CDXZKFTC
Series Page: https://www.amazon.com/dp/B0CFFQ5HX2
Malice, Matrimony & Murder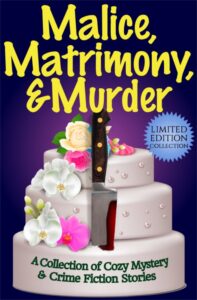 Pre-order Available 
Amazon (paperback only):https://www.amazon.com/Malice-Matrimony-Murder-Limited-Collection/dp/B0CGT6T9LB
Barnes & Noble: https://www.barnesandnoble.com/s/2940167329775
Apple Books: https://books.apple.com/book/id6456454509
Kobo: https://www.kobo.com/Search/Query?query=9798223878360
Books2Read universal link: https://books2read.com/malicebook
Twenty-five cozy mystery and cozy crime fiction authors have teamed up to create Malice, Matrimony, and Murder, a collection of brand-new, wedding-themed short stories that will keep you wondering whodunit and what's next from the first page to the last. Between bad bridesmaids, conniving caterers, greedy guests, ill-mannered in-laws, savvy sleuths, and vengeful villains, this anthology has it all! My story is titled "The Other Wedding Crasher."
Now Available!
Playing at Murder
Market Center Mysteries #3
Coming in Mass Market Paperback in 2024 from Harlequin/Worldwide Mystery Library!
Order Kindle: https://www.amazon.com/dp/B0BFJS9FK9
Order Trade Paperback: https://www.amazon.com/dp/B0BFTWFCXG
Nook: https://www.barnesandnoble.com/w/playing-at-murder-karen-mccullough/1142486029
Other formats: https://books2read.com/u/bpq6Ng
When murder crashes the Games and Playthings Exhibition, someone's not toying around.
Dolls, constructions sets, stuffed animals, craft kits, and more are the featured displays in the annual Games and Playthings Trade Show at the Washington D.C. Commerce and Market Center, where vendors seek to convince retail buyers to stock their products. Murder and destruction aren't supposed to be on the program.
The hit-and-run death of an exhibitor overshadows what should be a fun few days of giveaways, games, and demos. A gun hidden in a bin of stuffed animals, a damaged show car, and a drone knocking over the PlayBlox displays are the opening salvos of chaos created by a clever but unhinged vandal.
Settling disputes and fielding complaints are all in a day's work for Heather McNeil, assistant to the director of the Market Center. Sussing out murder suspects to help the police is way beyond her job description, especially while trying to corner a vandal before the damage gets worse. Keeping the show running despite the mayhem will pit her and her allies, particularly Scott Brandon, the Center's handsome but enigmatic security officer, against someone playing a deadly game.
<————————>
AVAILABLE NOW!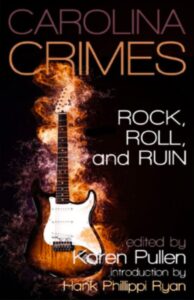 Order: https://www.amazon.com/Rock-Roll-Ruin-Triangle-Anthology-ebook/dp/B0BB3DV6N5/
In Rock, Roll, and Ruin, twenty-seven mystery writers serve up musically-themed crime stories around situations as unique as your inky fingerprints. There's the bad-boy rock star, dumber than dirt, evading all attempts to keep him out of jail. Casino robbers undone by tribal flutes. A 1950's jukebox that summons the dead and disappears the living. Jealousy drives girl band shenanigans, while a victim of botched plastic surgery seeks vengeance. Untimely deaths abound: at the prom, on a soap opera set, on a mountain-side hike. Several domestic "disagreements" are far from cliche: one wife is impatient and greedy; another wants her Stevie Nicks albums back; a third is desperate to get her husband to turn down the volume. Elvis fans will be tickled by the many mentions of the King himself, including an over-the-top fan club and a side-kick named after his dog. Whether trudging through snow in an Alaska forest, humming country music at a boatyard in Florida, playing sleuth at an assisted living facility, or stumbling backstage at the opera, irate, despairing, and deceived characters step into crime with barely a second thought.
Rock, Roll, and Ruin is a music-themed anthology of the Triangle, North Carolina chapter of Sisters in Crime. Some stories are cackling-out-loud funny, others are wickedly dark, but all are entertaining, original, un-putdownable. As Hank Phillippi Ryan writes in the Introduction, "Dip in to this concert of mystery, open to any story, and you'll sing a chorus of approval."
My story in the anthology is titled "Rock 'n' Roll Never Forgets."
Praise for Rock, Roll, and Ruin:
"Double-crosses, divas, detectives, and divorces—all set against the soundtrack of our lives. Rock, Roll, and Ruin takes us on a rollicking musical trip down memory lane with Buddy Holly, Chuck Barry, Elvis, and a host of musical delights. Oh, and a murder or ten." —Susan Van Kirk, President of the Guppy Chapter of Sisters in Crime and author of the Endurance Mysteries
"The clever theme of this delightful anthology leads to a plethora of fine short stories featuring music from rock and roll through gospel, country, ole time rock and roll, and opera. Sleuths range from teachers to physicians to waitresses to musicians. Authors are new and veteran. Rock, Roll, and Ruin indeed offers something for any mystery lover." —Molly Weston, Mystery Writers of American Raven Award for Meritorious Mysteries
"From self-important bands through a high school sock hop to rabid fans, these 27 stories follow music-obsessed individuals as their lives descend into crime and mayhem. A fascinating look at danger in our music culture." —KM Rockwood, author of the Jesse Damon crime novel series
"A rollicking good collection of crime stories powered by lyrics, strains, beats, and bop (on the head) malice." —Molly MacRae, author of The Highland Bookshop Mysteries and The Haunted Yarn Shop Mysteries
"When the combination of mystery and music runs amok, the result is Rock, Roll, and Ruin—a book you can't put down!" —Debra Goldstein, author of the Sarah Blair mysteries