Writing Progress – Falling for the Deputy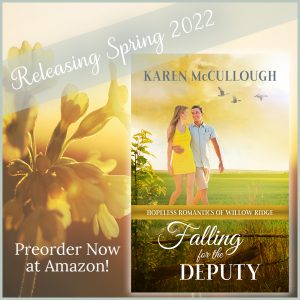 Yesterday afternoon I finished the first draft of Falling for the Deputy. I'll spend a few days going through it to check pacing and fix any grammar, word choice, or continuity errors I find. (I almost always change a minor character's name somewhere in the course of a book.)
Then it will be off to a couple of trusted readers and an editor. Once I have their feedback, I'll go through it again, reworking what needs fixing. It should be ready to format and load up to Amazon a few days in advance of its March 29th release date.
Blurb:
After losing at love twice, Barbara Wilton needs a change, some place far from her home in Boston, so she takes a position as manager of a small branch bank in Willow Ridge, Georgia. She's done with relationships and ready to concentrate on her career. The experience in Willow Ridge will help her move forward in the banking industry, but she doesn't plan to stay there permanently. Nevertheless, an invitation to join the Hopeless Romantics book club, a position on a planning committee, helping a little league team that needs coaching, and being adopted by a stray dog begin to wind her into the community.
Chris Harper was a police officer in Charlotte until his marriage fell apart. With his mother and elderly aunt in deteriorating health, Chris returns home to Willow Ridge to help them and takes a job as chief deputy to the local sheriff. The wound left by his failed marriage is still raw and, despite his mother's nagging, he's not interested in pursuing any relationship, even with the attractive new bank manager.
Fate, helped by a few local residents, conspires to push Barbara and Chris together. They meet during a false alarm at the bank and then he assists her with a car problem. But when his aunt receives a foreclosure notice on her house, Chris is angry with Barbara for not warning him that his aunt was behind on her payments.
She agrees to help him work out the problem with the bank, but the deeper issues between them keep flaring. Can two wary, wounded people learn to trust again and find happiness together? Find out in this sweet, second chance, enemies to lovers romance.