I still have a couple more posts about the family visit last month that I'm now posting after a break to take care of other things. They'll make a good way to wrap up summer now that we're moving into fall
The final outing of our visit to South Bend in August was to St. Patrick's Park, a fairly new park set up on the grounds of a former farm, on the outskirts of South Bend. It includes a number of walking trails and some interesting play spots for the children.
We started our visit with one of the walking trails that winds its way through a wooded loop of the park for about a mile and a half. An early beginning meant the temperature was pleasant, especially in the shade of the trees. The only unpleasant feature was the hordes of mosquitoes, but, fortunately, Sarah brought bug spray, which fended them off.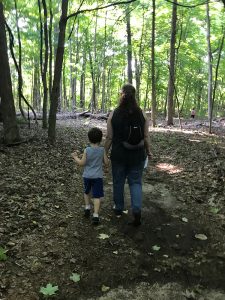 That part of our visit done, we piled back into the van and headed to the next stop, a play area for the children. Actually two play areas. One was a large, traditional playset with steps, slides and climbing poles, but the boys found the other, less traditional area more intriguing.
The big hit there was a water pump and system of movable wooden sluices that spilled water in a sand pit, where the kids could dig lakes, rivers, streams etc. to guide the liquid in whatever direction and into whatever form they wanted. The older two boys went into this trip with a plan that involved digging an elaborate stream leading under the old wooden rowboat shell, through a series of sand bridges they created and finally ending near the edge of the sand pit. One of them (mostly C.) pumped while the other excavated.
Meanwhile, the six-year-old followed his own program to make use of some of the other intriguing play possibilities. He spent quite a bit of time jumping along a series of tree stumps, negotiating an elastic web about ten feet in diameter, and climbing a hollow log some six feet high.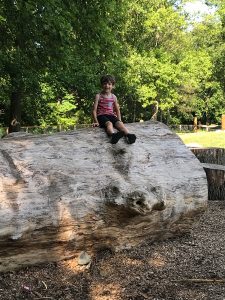 The four-year-old did his own thing as well, but that involved mostly digging in the sand.
A covered picnic area in the center of this section made the adults happy. The shade and place to rest was most welcome!
For the last half hour or so of our visit, the boys played on the more traditional climbing stairs, swinging from bars, and sliding down the slides (plus trying to run back up them).
A fun time was had by all of us!