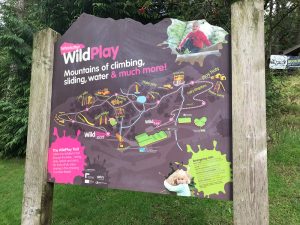 Day five promised unsettled weather, but we packed our rain gear, ventured out anyway, and caught a bus to Whinlatter Forest Park. The park includes walking trails for all levels of experience and ability, but we were mostly interested in things the children could do. The WildPlay Trail followed by the Gruffalo Trail provided the answer.
The WildPlay trail is a playground area with plenty of attractions for kids and a sometimes steep path that led from one activity to another.  Freya and James had a great time, sliding, swinging, and climbing. James even found a shallow stream he could stomp around in.
Eventually we veered off from the playgrounds to find the Gruffalo Trail. The trail is listed as a mile long, but it seemed longer and some of it was fairly steep. Nonetheless, the kids tackled it with enthusiasm. For the adults it was a pleasant, if sometimes strenuous, walk through lovely woods and up and down parts of a mountain, interspersed with occasional gorgeous views.
The kids excitedly anticipated arriving at each of the sculptures based on characters in the stories, The Gruffalo and The Gruffalo's Child by Julia Donaldson. Those books are much better known in the UK than they are here in the US, but they ought to be more popular here. They're delightful and five-year-old Freya can recite parts of it from memory.
We found the mouse first, then came upon the Gruffalo's child, sleeping, the fox, the owl, and the snake, all at fairly wide intervals. Eventually we got to the Gruffalo himself, in a little clearing off to the side of the trail. He's a rather fearsome-looking beast, but the children didn't seem too intimidated. We also found the squirrel nearby.
The trail formed a loop and by the time we got to the Gruffalo, we were three-fourths of the way back to the playground area. The walk made us all hungry, so we stopped for lunch at a picnic area in one corner. After a while the weather began to deteriorate, which made it time to catch the bus back to Keswick.
We got there in mid-afternoon and ducked into The Wild Strawberry café  for afternoon tea. In addition to scones, clotted cream, and jam, we got several slices of different cakes, which we split up so that everyone got a taste or two of each, and each person's beverage of choice. Stuffed and very satisfied, we made our way back to the house.