Goodbye to the Local Baseball Team For This Year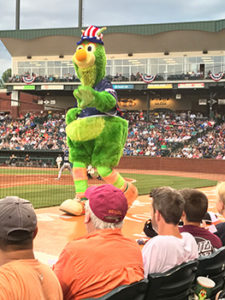 I'm a sports fan. That's a statement of fact, not to be mistaken for a confession or an admission. It is what it is.
I'm particularly fond of baseball and especially our local minor league team, the Greensboro Grasshoppers, affectionately known as the Hoppers. Yes, it's a ridiculous name, but the team is actually named for a small cannon used during the Revolutionary war, not necessarily the bug, even if the team mascot does happen to be a giant, stylized insect.
The Class A South Atlantic league wraps up its regular season at the end of August.  The Hoppers still have one more home stand before then, but we won't be able to go to those, so we took in our last game the night before last.
It was a terrific time. The weather was perfect. After a fierce storm early in the day, the skies cleared again, but the temperature sank from 90 in the morning to 73 at game time. In addition to the show on the field, the skies presented a glorious display as the sun went down behind us.
And then there was the game itself, a perfect and perfectly odd jewel of a game. The Hoppers won 7 to nothing. Our pitchers combined for a shutout, including the starting pitcher who gave up only one hit through five innings. But the scoring… Three times in the game–three times!–the opposing pitchers walked a batter with the bases loaded. A fourth run was added when the pitcher hit a batter with the bases loaded.
But hey, a win is a win, and we'll take it. Although our team is reasonably good, we've seen them win only once before this season. Every other game we've gone to (maybe 6 or 7) has been a loss. This was a good way to close out the season.
And there were fireworks after the game. They put on an amazing show.