Upcoming Release – No Time for Regrets
No Time for Regrets, my latest entry in the multi-author The No Brides Club Series, releases on May 1!  The book is a sweet romance novel set in New York City.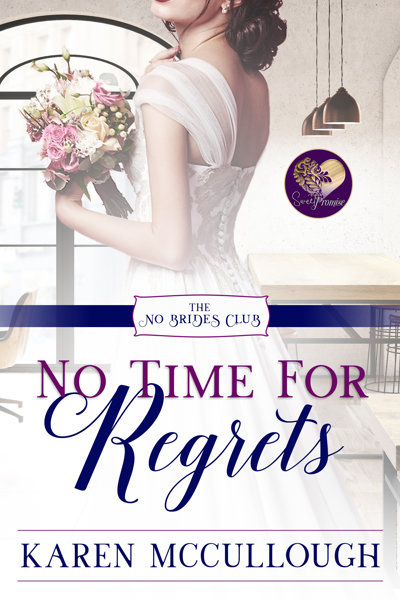 When Samantha "Sam" Dennis's life implodes, she flees her hometown for a fresh start in New York City. Her cousin Julie helps her get settled and introduces her to her friends in the No Brides Club—other women who've sworn off love to concentrate on their careers. She gladly joins the club as she spends her days waitressing at a cafe and nights attending an online business school.
But then Matt Sentori walks into the cafe.
Matt has his own tragic history, and Sam is reluctantly drawn to him, even if he is a lawyer just like her ex. He makes it clear he's interested in her, but when his law firm gets involved in the sale of the apartment building she lives in, which will displace all the tenants, Sam is more convinced than ever to commit herself to the No Brides Club.
Matt wants to win back her trust by showing he's not the same uncaring creep as her ex, despite their shared profession. Finding ways to help the most desperate and needy tenants who share her building seems a good way to do it, but dealing with her neighbors and their problems will test Matt's and Sam's ability to trust each other as well as their growing love.
When Sam finally puts her life back together, will there be room for Matt in her heart?