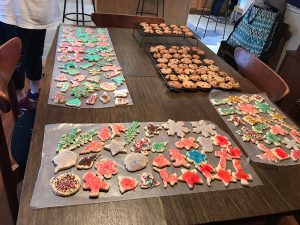 I like to have lots of baked goods on hand for the holidays, including a good supply of home-made cookies. With a houseful of visitors for Christmas, they go fast. And I give batches away as gifts, so I need plenty.
I generally figure 4 batches of chocolate chip cookies, 2 large batches each of sugar cookies, orange cookies, molasses cookies and cinnamon crisps. At my age, I generally only have enough energy for a couple of batches at one time. All totaled, I probably make 40-50 dozen cookies. To manage that many I have to get a head start, so once I've converted the Halloween pumpkin into delicious things, I get right to work building my cookie inventory. Fortunately they freeze well.
In fact, some of my children prefer the chocolates chip cookies frozen, harking back to the days when they were young, and I thought I could thwart the cookie thieves by hiding the loot in the freezer. As if! Turns out they learned to like them frozen.
The cookie baking goes back even farther in my life. My mother used to bake loads of cookies around the Christmas season (and we were all just as given to scarfing them behind her back). We often 'helped' her decorate the sugar cookies with colored sugar sprinkles. While I'm mixing and rolling and sprinkling, I often think back to warm memories of those days.
Which is why I always try to make it a point to let my grandchildren 'help' me bake some when they come to visit.