The New York Public Library holds a special place in my heart. As I mentioned in an earlier post, I spent several days while at home one summer from university doing research there for an important history project. That meant taking the train from Poughkeepsie down to Manhattan's Grand Central Station. From there it was just a few blocks' walk to the library.
The building itself is a massive monument to scholarship through the ages. There's something about walking between the huge lion statues on the steps up that warns you're embarking on a serious enterprise as you approach the building.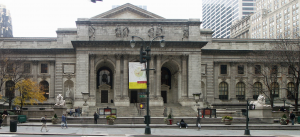 Main Library Exterior: New York Public Library
CC BY-SA (https://creativecommons.org/licenses/by-sa/4.0)
The interior continues that theme with its enormous spaces, grand, soaring staircases, huge windows, works of art throughout, and the array of resources available.
I went there to research events of a certain narrow historical time period, so I'd make my way up the stairs to the third floor reading room. First, though, I'd stop in the card catalog room that forms an anteroom to the main reading room to look up call numbers for the books I needed. This was many years ago, and I haven't been there recently, so I'm guessing that the physical card catalog has mostly been replaced by computers.
From there I'd proceed to the Rose Reading Room, a huge space filled with rows and rows of long desks, lit by enormous windows and a series of impressive chandeliers. The main desk bisected the center of the room and it was there I'd submit the book requests. Generally it would take 20-30 minutes for the books to be delivered to the desk where I'd take them to one of the long tables and fill a notebook with notes and references. Those books couldn't be removed from the reading room, so I'd get what I needed from them and return them to the desk when I was done.
The quiet in the room was broken only by the low mumble of voices at the desk, the swish of pages turning, and the occasional squeak of a chair or shoe. It was almost a reverential hush, respect for all of the people who'd come to seek wisdom or knowledge from the vast repository the library held. Sometimes my mind would drift and I'd look up at the awe-inspiring paintings on the ceiling.
I felt then, and continue to believe, that it says something amazing about our society that we've created and maintain a place like that to celebrate the collected experience and thoughts of the ages of human existence.
The Rose Reading Room, New York Public Library
Photo: Deposit Photos