New Cover for Wizard's Bridge
As explained yesterday, Bell Bridge Books, which bought ImaJinn Books, publisher of my two romantic fantasy novels, Wizard's Bridge and Witch's Journey is republishing the books, with fantastic new covers! By the way, Wizard's Bridge was originally published as an ebook by Dreams Unlimited,  with the title, The Rainbow Bridge. It won an Eppie Award in the Fantasy Category, and was a finalist in the Prism, Dream Realm, and Rising Star awards.
Here is the new cover for Wizard's Bridge: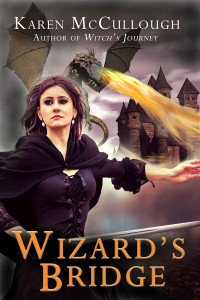 Click on the cover for a larger image – it's worth it. Read more about Wizard's Bridge here, and order it from Amazon here.
This book features a dragon as an important character in the story.