My Romance Novels are Mysteries Too
I write both romance and mystery novels (as well as suspense, fantasy, and paranormal). Nearly all my mysteries have romantic elements and most of my romance novels have included elements of mystery. My most recent release, Falling for the Deputy, a short romance novel, is no exception. In fact, it includes two separate mysteries. The answer to one is obvious and is really a sub-subplot that connects to the main subplot.
The basic genre plot of a romance is fairly simple, as are most basic plots. In a romance novel, two people meet, are attracted to each other, but something—or more than one something—stands in their way. They each have to work on something about themselves or their circumstances, until finally they have each sacrificed and grown enough to overcome any obstacles. Or they decide that the other person is more important to them than anything or anyone else.
What makes a story worth reading, of course, are the specifics pinned onto that skeletal outline. Who are the two people? What stands in their way? How will they overcome those obstacles? It's all about the details.
A mystery makes a nice subplot because it can create all sorts of obstacles to a relationship. When one person is law enforcement and the other is the chief suspect, a crime puts both protagonists in tough spots and forces them to make some hard choices.
I generally don't do a murder mystery for a subplot; murder is too impactful and would take over the story. But vandalism, embezzlement, bribery, fraud, extortion, blackmail, robbery, and others can all make for effective whodunits as well. They're still serious crimes with serious consequences.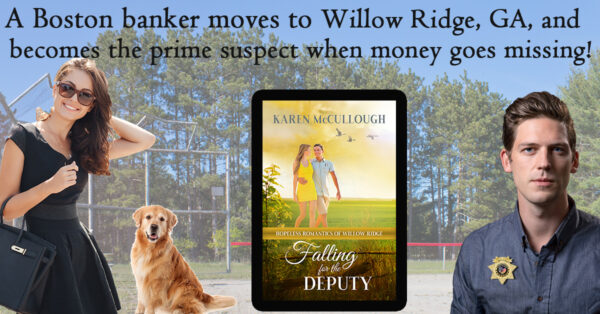 In Falling for the Deputy, I use both fraud and embezzlement, with the heroine a suspect in both. How the simpler one is resolved impacts directly on the second and more serious crime, which had huge implications for the relationship between the two main protagonists.
On the larger level, most novels have some kind of mystery at their heart. Based on the genre, a reader may know that the story will turn out okay in the end, but how that's going to happen is the central question and the reason to keep reading. If we all knew how the resolution would work out before we started reading a novel, there wouldn't be any point in going on.
That's why people hate spoilers for stories.