My Garden Doesn't Look Like Those Magazine Photos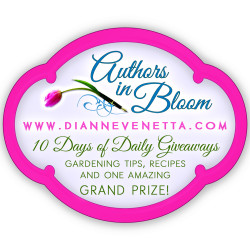 This post is part of the Authors in Bloom Blog Hop. Read to the end to find out how you can win some terrific prizes.
It's no secret that I love my garden. Seeing little shoots poke up out of the ground, grow, and develop into strong plants with glorious flowers makes my soul rejoice.
And I enjoy reading plant catalogs, gardening magazines, and those fabulous home glossies that show my dream plantings. I can't get enough of those spreads of vibrant azaleas, sunny zinnias, marigolds, and daisies, and flowing beds of pastel impatiens. I drool over pots full of just the right assortment of tall, short, and trailing plants, mixed with variegated greens and colorful floral highlights. Dreams.
Reality is my garden looks like those glossy, landscaped masses of color for about three minutes, usually sometime in mid-June.
I've never mastered the art of designing plantings that will produce those flowing waves of vibrant glory. I end up with clumps of happy red zinnias here and smiling yellow marigolds there. The roses put on a splendid display for a couple of weeks before the heat drives them back in somnolent leafiness. The irises and gladiolas will rise up in May and June for a magnificent but short-lived blaze of petal-pretty glory.
My pots of geraniums spend a couple of months looking dinky until they grow into their allotted space. They're fabulous for a week or two until they start to wilt in the blazing North Carolina July heat. They'll have another renaissance in late September when cooler temperatures encourage another spurt of growth and bloom.
I've come to terms with it. My garden is never going to pose for a magazine photo shoot. It doesn't matter. It gives me pleasure and feeds my soul. That's what counts. Not much of a tip, I know, but really, really important. You don't want to give up on gardening because you can't reach perfection. You CAN get very good, though.
Just like I've come to terms with the fact that I'll likely never write a book that sells millions of copies. I enjoy writing and it feeds my soul just as gardening does. So I'll keep on doing both.
This post is sponsored by the first book in my Market Center Mysteries series, A Gift for Murder.
Blurb: The Gifts and Home Decoration trade show provides Heather McNeill with the longest week of her hectic life. As assistant to the director of Washington, D.C.'s, Market and Commerce center, she's point person for complaining exhibitors, missing shipments and miscellaneous disasters. It's a job she takes in stride—until murder crashes the event.
Amazon: http://www.amazon.com/dp/B00CGKYNT6
Read an excerpt and get other order links here: http://www.kmccullough.com/Murder.php
Note: the cover at left will soon be replaced with a new one that reflects the series branding since book two, Wired for Murder, should be available in a few months.
Now, about the prizes:
Contests:
I'm giving away a gift pack including a print copy of one of my books plus some other swag to a random commenter, so leave your email address in your comment to be eligible. Sorry, but shipping is limited to the US and Canada. If we have an international winner, I'll offer you a package of ebooks instead.
GRAND PRIZE: We are giving away a Kindle Fire or Nook (winner's choice) along with a 2nd prize of $25 gift card.