Guest Post: Pamela Thibodeaux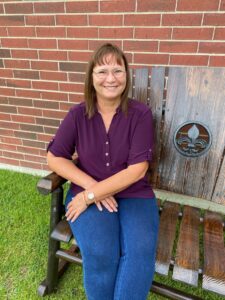 Today I welcome author friend Pamela Thibodeaux, who is visiting my blog with a sneak-peek look at her latest release, Kyleigh's Cowboy.
Blurb:  She's attempting to start a new life. He's roamed for more than a decade. Can they let go of the past and grab hold of the future?
Seven years after the death of her husband, Kyleigh Winters turned their old vacation home into a brand new guest ranch. Not willing to join the ranks of lonely women trolling the bars or online in search of a man, Kyleigh is sure if God wishes her to have another husband, He'll send the perfect someone in His own time. But will she be open to the possibility of new love when He does?
Searching for a place that calls to his soul, Lance Stevens has been a roaming cowboy for ten years since retiring from the Marines. He finds that sanctuary the moment he drives through the Silver Star's gate and meeting the lovely owner speaks to more than his soul. Will he open to the healing power of love?
Get Pamela Thibodeaux's second chance romance novella today and see how love and faith conquers all.
Excerpt:
Today though, Lance was ready for a nice, long ride. Alone. Away from people. Having only a couple of guests at the time allowed him the freedom to take a day off and do so.
He stepped out of the bunkhouse and glanced toward Kyleigh's cabin where she sat on the porch. An easel blocked his view of her pretty face. Maybe I won't ride alone after all. He headed in her direction.
"Morning." He hesitated on entering her creative sphere without permission, horror stories of interrupting an artist at work running through his mind. She glanced up, smiled, and his pulse scrambled.
"Morning. How are you today?"
"Great. Just getting ready to head out for a ride. Want to tag along?"
Kyleigh grinned and shrugged with a slight shake of her head. "I'm not much of a rider."
"What? You own a guest ranch, and you don't ride? We're going to have to fix that," he declared with a chuckle.
"Maybe, but not today."
"What'cha working on? Or am I allowed to ask?"
She laughed. "I'm not one of those crazy, eccentric artists who doesn't want her work looked at until it's perfected. C'mon up and tell me what you think."
Lance ascended the steps then stopped, awestruck by the images on her canvas. Wildlife grazed on lush green tufts of grass peeking through rocks and dirt. Brightly colored birds flitted from tree to tree. Bees and butterflies feasted on the nectar of Prickly Pear Cactus and Purple Passion flowers. A waterfall fed the rapids rushing over slabs of stone then settled in a soft pool of aqua as smooth as glass. "It's Pedernales Falls."
The surprised pleasure on her face sent a horde of butterflies bouncing off his ribcage. "You've been there?"
He nodded. "Yeah, I try to visit area state parks as often as I can. Camped there a time or two in between jobs."
"You've lived in the Hill Country for a while now, haven't you?"
"A few years."
"And you love it?"
Lance nodded again. "I've seen majestic mountains, rolling hills and desert sands but there's just something intimate and cozy about the Hill Country."
"You sound like Dennis," Kyleigh remarked with a sigh. "He loved this area. Looked for years to buy a place and when this one came open, snatched it up."
"Sounds like your husband was a great guy. Wish I could've met him."
Pleasure lit her ebony eyes so the lighter colors within the irises shone through. "You would have loved him—everyone did, and I'm sure you two would have made great friends."
Their gazes locked. The air pulsated between them. Desire, sharp and painful stabbed in his blood. Easy boy, he chided himself then tipped his hat. "I'll take that as a compliment. Guess I'd better head out if I'm going to take that ride. Sure you don't want to come along?"
"Not this time, but thanks."
"We'll take a rain check then." He turned his horse and left before he did something stupid. Like drag her into his arms and kiss her senseless.
Two days later, glad to see no easel or painting in sight, he rode up with another horse saddled and in tow as Kyleigh settled into the rocking chair on her porch. "I'm calling in your rain check."
"I told you I'm not much of a rider. I'm not comfortable enough on a horse to tackle these hills."
Lance dismounted and looped Champ's reins over the porch rail and held a hand out to her. "We'll stay on flat land then."
She blew out a breath. "You're not going to take no for an answer, are you?"
He grinned. "No, ma'am."
Kyleigh pushed herself out of the chair with a sigh. "Let me get my boots on and grab a hat."
Five minutes later he helped her mount and adjusted her stirrups, lingering just a bit when his hand grasped her calf to check the length. "Good?"
She nodded and he handed her the reins. Awareness sizzled from the simple brush of hands in the exchange. Sensing her hesitation and fear, he swung into his saddle, turned Champ alongside her horse and put his hand over hers. "Trust me."
A smile broke through her tense lips, her shoulders relaxed. "I do."
Ramona and Robert stared out the lodge window in total shock. "He's got her on a horse," Mona whispered.
Robert laughed. "Yeah. That's a good sign. Right?"
She beamed at him. "The best."
Purchase Link: https://books2read.com/KyleighsCowboy
Author Bio: Award-winning author, Pamela S. Thibodeaux is the Co-Founder and a lifetime member of Bayou Writers Group in Lake Charles, Louisiana. Multi-published in romantic fiction as well as creative non-fiction, her writing has been tagged as, "Inspirational with an Edge!" ™ and reviewed as "steamier and grittier than the typical Christian novel without decreasing the message." Sign up to receive Pam's newsletter and get a FREE short story! http://bit.ly/psthibnewsletter
Social Media Links:
FB Author Page: https://www.facebook.com/pamelasthibodeauxauthor
Twitter: http://twitter.com/psthib @psthib
Pinterest: http://www.pinterest.com/pamelasthibodea/
Amazon Author Page:  https://www.amazon.com/Pamela-S-Thibodeaux/e/B002BM045Q/
BookBub: https://www.bookbub.com/authors/pamela-s-thibodeaux
Instagram: https://instagram.com/pamelasthibodeauxauthor
Good Reads: https://www.goodreads.com/author/show/1268453.Pamela_S_Thibodeaux
LinkedIn: https://www.linkedin.com/in/pamelasthibodeaux/