Greece Day 8 – The Last Day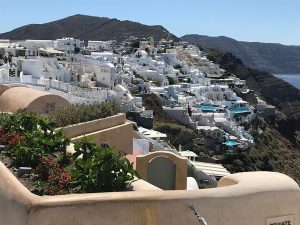 Our very last day on Santorini and in Greece. We'd planned to spend most of the day exploring the town of Oia. We had breakfast at a nice café with pastries, fresh squeezed orange juice, and coffee. The first hour or two of our time in the city was fun and pleasant. We stopped into a few shops, checked out the fabulous views and had the privilege of going into one of the amazing Greek Orthodox churches that was open to the public.
Unfortunately they didn't allow photography inside the church, which is understandable but a pity. The church was gorgeous. Every surface was decorated with frescos, paintings, and icons. Gold and silver leaf were everywhere, making many of the surfaces glow. Candles, candle stands, censors, and small shrines filled the place, along with benches for worshippers.
It was an odd and exhilarating experience to step from the sunshine, heat, and crushing crowds of Oia into the church, where a respectful quiet reigned, even from the many tourists circulating through it. The peace of the interior, which focused attention on the spiritual realm, was almost tangible and truly refreshing.
Then it was back to exploring the town, but as the morning wore on, the narrow streets got more and more crowded. The heat was pretty stifling as well. When large tour groups from docked cruise ships began to create gridlock, we gave it up.
Instead we decided to head for Perissa and its black-sand beach. Good decision! The beach was lovely. The water was cold and clear. The black sand, ground from the volcanic rock of that area of the island had a very different feel from the white sand we're used to on Atlantic beaches. It's coarser and harder. The day was hot and the sand even hotter. It was literally so hot you had to wear shoes to cross it or burn the bottoms of your feet.
Lunch came from a restaurant/bar across a narrow street from the beach. Lamb pita sandwiches (with tzatziki, of course) hit the spot, accompanied by an Aperol spritz (more on those later).
For our final evening, we brought in food and had a picnic on the roof deck, watching our last Santorini sunset and reminiscing over what a great trip it had been.
We didn't sleep much that night since we had to get up at 4 to get to the airport in time for our early flight from Santorini to Athens. From there we'd go from Athens to Philadelphia and get a connecting flight to Raleigh.
What a fabulous trip! I've already talked about seeing some of the great monuments and what that meant to me here: http://classicandcozybooks.blogspot.com/2019/07/the-literal-and-figurative-weight-of.html
Let's talk sustenance
From the sublime to the more mundane, though, is something I've mentioned a few times: food and drink.
I've enjoyed Greek food here in the U.S. and was looking forward to trying it out in Greece. I'm please to report the food was every bit as good as hoped and even better. I only regret that I couldn't eat more than I did, but the heat did affect my appetite somewhat. Still I sampled a lot of favorites, including Gyros, Souvlaki, Spanakopita, Dolmadakias (stuffed grape leaves), Falafel, and Moussaka, and only the Souvlaki wasn't quite as good as I hoped. It seemed a bit dry to me. On the other hand, the Falafel was deliciously moist and flavorful. The lamb, sampled on several occasions, was always good.
Greek salad was delicious, although I'm still not a big fan of raw tomatoes. The feta was much, much better than any I've had in the U.S. and the salad usually came with either a huge slab of it or a generous sprinkling of cubes.
Gelato just is – there's not much I can say beyond it's just the best! Creamy, fruity, cold, refreshing, scrumptious! And then there were the pastries. They came in two varieties, sweet and savory. Both were good but the sweet ones were divine. Confession: I actually had a big slice of apple pie for breakfast one morning. Unfortunately I can't eat Baklava (I'm allergic to tree nuts), which looked yummy, but milk and honey pies were my favorite.
Although I probably drank more water than anything else, several other drinks are worth talking about, starting with Greek coffee. Unlike cappuccino and most other ways of preparing it, Greek coffee is made by boiling the grounds in the water. It comes out thick and strong enough to make the spoon stand up. It's not for everyone, but I love it, though I have to add a lot of sugar. Frappes are another popular coffee drink, involving less strong coffee with milk and sugar and served over ice.
One of the revelations of the trip was Lemon and Orange Fanta. It isn't a soda I drink at home (I don't drink any kind of soda much at all), but it's everywhere there and understandably. Greek Fanta has a strong citrus flavor and isn't as syrupy sweet as the stuff we get here. It's surprisingly refreshing. Fresh squeezed orange juice is also a popular beverage, available pretty much everywhere. That's not surprising since we saw quite a few orange trees loaded with fruit.
On the alcoholic beverage side my biggest discovery was the Aperol spritz. It's alcohol content is low but the prosecco and soda water make it quite refreshing. Of course, there's Ouzo, which is anything but light on the alcohol content. Its strong anice flavor isn't for everyone. I like it, but I like licorice, too, and Ouzo is a lot like drinking your black licorice.
Food and drink tend to be among the highlights of most travel and in this case I can say they certainly were!