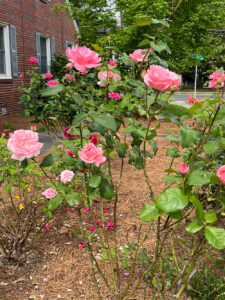 May is the perfect time for gardening in central North Carolina. The average temperature has warmed up enough to make the plants grow happily but hasn't yet reached the sizzling levels that will make summer pretty miserable.
At this point the daffodils, tulips, and iris have come and gone. The Asiatic lilies are budding and the gladiolus are pushing up strongly. But May is the month of the roses, and mine are looking splendid this year.
Growing roses in this area is a challenge. They are glorious right now in the warmth and wet of May, but they really don't like our very hot and humid summers. To ensure they stay reasonably healthy, I feed them rose food once a month, water a couple of times of week in hot weather, spray regularly for insects and brown spot during the summer, and deadhead constantly. I hate having to spray, but the combination of aphids and Japanese beetles means I'll have no plants left if I don't. (The experiment has been made. I've tried several 'natural' means of getting rid of the bugs. They don't work.) But when the weather cools again in the fall, they'll have another explosion of blooms to reward my efforts.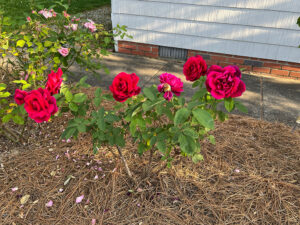 Other things are going on in the garden right now as well. Many of the perennials are beginning to bloom; the zinnia and cosmos seeds are germinating; and the weeds are proliferating despite my constant effort to remove them.
The area in front of the house needs a refresher and some new plants, but we'll be having our front porch rebuilt in a couple of weeks, so there's no point in working around there until the workers are finished tramping over it.
I have in mind a couple more areas to turn into flower beds.
That's the thing about working in the garden. It's never done. But the rewards for the effort are really quite wonderful.