Blue December is Available!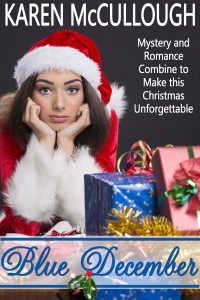 This short, romantic Christmas mystery was originally published in hard cover in 1992 by Avalon Books, which has since been bought by Amazon. It's been re-edited for release as an ebook.
Blurb: It's two weeks before Christmas and Meg Brandt, a department manager at Wambash's, "the store with the answer to all your family's needs," has problems beyond the usual seasonal chaos. Her department is losing cash from the registers. Inventory is leaving the premises unrecorded and unpaid. Security is focusing on her, since the losses are happening on her watch. Her efforts to track down the source of the disappearances have produced no results, and her career appears to be headed for oblivion. When the store's new security officer starts showing unusual attention to her, Meg isn't sure what to think. He's attractive in any number of ways, but she can't be sure if his interest is personal or professional.
http://www.amazon.com/Blue-December-Karen-McCullough-ebook/dp/B00Q29CBNC/ref=sr_1_1?s=books&ie=UTF8&qid=1417662714&sr=1-1&keywords=blue+december