Not too long ago I went with my family for a week on the beach at Edisto Island. Twice a year, late spring and early fall, we do a coastal retreat. We all need some time out after the stresses of the previous year, and for me it meant a break from thinking about Covid and working on my recovery. Fortunately, I was in pretty good shape at the time, several weeks past the last relapse and functioning well. I was up for those long walks on the beach, even if they're not as long as they used to be pre-Covid.
Edisto Beach is a quiet, family-oriented place. Unlike many other nearby beaches, it has no amusement parks, no live entertainment, no real events other than a few local arts and crafts fairs, only a few restaurants, and very little night-life.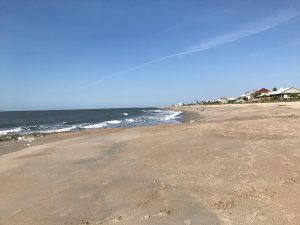 What it does have is the ocean and a wonderful beach. We make our treks there on the shoulders of the main season, sometime in May, and again in late September or early October, and at that time, the beach is rarely too crowded. The space between water and dunes narrows at high tide, forcing people together more, but there's still plenty of room and quiet. The weather can be a question mark, sometimes too cool and too windy for comfortable walks. But picking those almost off-season times lets us afford a house right on the ocean-front.
The fall trip can be dicey. A few years ago a hurricane devastated the island, forcing us to cancel the trip. Several times hurricanes, recent or predicted, have made it questionable whether we'd be able to go. But it's worth the wondering for the times we can get there.
The island has intriguing biking and hiking trails, a few gift stores worth exploring, a small but nicely curated local bookstore, and suppliers of locally sourced fresh seafood, which on its own is enough to make the trek worthwhile.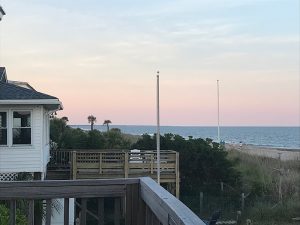 We go primarily for the sound, feel, and sights of the ocean, for walks on the beach, for quiet periods to read and meditate, time with family, and for the food. Fresh shrimp is always on the menu at least a couple of times, along with whatever fish is available. There are usually several good options.
We all take our laptops and make sure we rent houses with Internet connections, but we don't spend all day staring at them. Checking email and news aside, we leave work, worries, complications, and most of the myriad tasks of daily living behind.
It's a time to relax, catch up on reading, renew the acquaintance of family members and just give the brain a break.