A Very Gothic Christmas Wish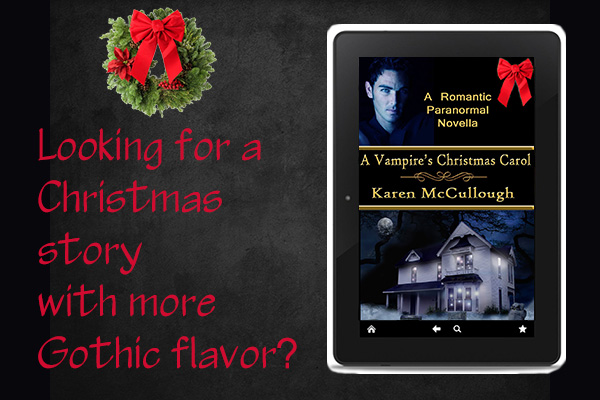 Amazon Kindle   Nook   Smashwords   Kobo   Apple Books
Every year for the past several, I've pulled out this poem, tweaked it, and added to it. I've finally finished it, but I doubt that will keep me from editing it a bit more next year.
A Visit with the Vampire on Christmas Eve
'Twas the night before Christmas and all through the hall
The vampire prepared for his last night of all.
A hundred years gone and the urge to drink blood
He'd struggled against and so far withstood.
With dawn's early light, his cursed life would end;
His soul, however, he'd maintain and defend.
When out on the porch there arose such a clatter,
He trudged to the door to see what was the matter
When what to his wondering eyes should appear
But a young woman shivering with cold and fear.
Her face it was pretty, her blood warm and sweet
To him, she was temptation, from her head to her feet.
Forced off the highway and lost on a back road,
With her car in a ditch, she's alone alone in the cold
Ignoring his warning that his presence meant danger
Carol opted for shelter and passed time with the stranger.
Memories of Christmases long gone they traded,
Gifts and feasts and treasures long faded,
And of the terrible night, a century ago,
When a vampire stole his life and his hope.
As he suffered the death throes of blood-hunger pollution,
She struggled to help him and find a solution.
When an enemy dastard showed up to gloat
And tries to make Carol a sacrificial goat,
She's no willing victim and fights for her life
And to help Michael get through a long night of strife.
He gives her a hint how his life might be won
As he goes out to meet the final morning's sun.
But will she succeed in the difficult task?
Or bid him goodbye and rest in peace at last?
Go buy the story to learn Michael's fate
Merry Christmas to all, and don't read too late!