Bell Bridge Books, which bought ImaJinn Books, publisher of my two romantic fantasy novels, Wizard's Bridge and Witch's Journey. is reissueing the books with fantastic new covers!  Below is the new cover for Witch's Journey.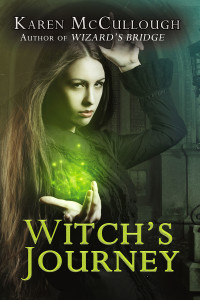 Isn't it beautiful?  Click for a larger version. Read more about the book here!
I've long planned a couple of sequels to Witch's Journey. I even have outlines for two subsequent books, but those plans got derailed by the illness and passing of Linda Kichline, the owner of ImaJinn Books, who was enthusiastic about them. Inspired by the new cover, I got out those outlines and now I'm pretty sure I'm going to write those sequels.  But first, I need to finish the Market Center Mystery I currently have in progress.
Tomorrow, I'll share the new cover for Wizard's Bridge. It's even more gorgeous.