Beginning today and running through August 31st, BelleBridge Books/ImaJinn Books is putting the ebook version of my Epic Ebook Award-winning fantasy novel, Wizard's Bridge on sale for only 99 cents!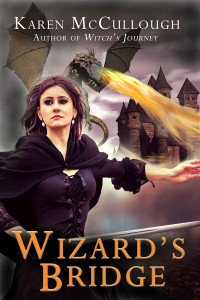 Her fellow wizard is not the man she expects . . .
When invasion by a coalition of unfriendly neighbors threatens her home town, Alsa knows the seed of their salvation lies within her. But her talent for wizardry won't help them unless she can learn how to use and control it, so she goes to the local wizard, who lives in a castle high on the side of a mountain.
To reach his home, she must brave a bridge that appears to be made solely of light and the wizard's ferocious guard dragon. Neither the bridge nor the dragon is exactly what it seems. But then Alsa finds that a lot of things on the wizard's mountain are not what she expects, including the wizard.
The bargain she has to make with him to get the lessons she needs shocks her and the training itself bears no resemblance to what she anticipated. Alsa has a lot of adapting to do and not much time for it. It will take every bit of her intelligence, courage, and compassion to master the magic, her home's enemies, the dragon, and even the wizard himself.
Read an excerpt here or on the Amazon site using the "Look Inside" feature.