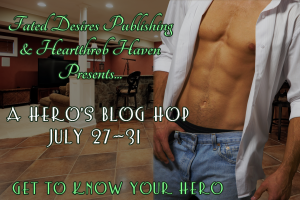 This post is part of the Heroes Blog Hop.  Click on the image to the left for details.
There are lots of prizes, including a Kindle and a huge swag pack – see picture at the end of the post.
Comment here for your chance to win one of many great prizes — more at the end of the post.
What is a Hero?
There are lots of ways to define "hero."  The TheFreeDictionary.com website offers these as its first two entries:
1. In mythology and legend, a man, often of divine ancestry, who is endowed with great courage and strength, celebrated for his bold exploits, and favored by the gods.
2. A person noted for feats of courage or nobility of purpose, especially one who has risked or sacrificed his or her life.
When we talk about "heroes" as authors, we're often using their fourth definition:
4. The principal male character in a novel, poem, or dramatic presentation.
Personally I find the number 2 kind much more interesting and prefer to combine number 2 and number 4 in my principal male character.  I'm also interested in some of the less obvious forms of heroism, including the quiet, self-sacrificing kind that often goes unrecognized and unacknowledged in daily life. Those heroes are all around us.
Just as an aside, despite the specific role of number 4, I like to think of "hero" as a gender-neutral term.  I've known a few female heroes in my time. But for the purposes of this essay, I'm using the gendered version of hero as a male character.
My novella, A Vampire's Christmas Carol, actually uses the idea of heroism, what it is and what it means, as one of the major themes.
My heroine tells her reluctant vampire companion that she isn't married in part because she's been holding out for a hero.  So far she hasn't met anyone who even came close.
Over the course of one hugely important night for him, Carol is a reluctant witness to Michael's heart-wrenching battle to hold onto what little humanity he has left. Doing that means not drinking human blood until the next morning. He only has to do it for ten more hours, but her presence and the continuing intrusions of his maker and nemesis provide temptation almost past bearing, while the deprivation causes him torturous pain.
It gives her a new view of what being a hero means and motivates her to do what she can to try to save him or at least ease his way if nothing else is possible.
Blurb for A Vampire's Christmas Carol:
Can Christmas Eve get any more fun? On her way to her family's home, Carol Prescott's car slides into a ditch in a deserted area with no cell phone signal. The only available shelter is already occupied…by a vampire. To Michael Carpenter, Carol is the bait of a trap.
In an effort to hold onto his soul, Michael has resisted the urge to drink human blood for almost a century. Now he hovers between human and vampire. If he doesn't drink from a human before the night ends, he'll die. He's desperately thirsty, but Michael has seen the soulless monsters vampires are and he prefers death. Carol is pure temptation to him, the Christmas present from hell…or is it from heaven?
THREE grand prizes. You as a reader can go to EACH blog and comment with your email address and be entered to win. Yep, you can enter over 100 times!
IMPORTANT: Be sure to leave your email address in your post, so we can contact you if you're a winner!
Now what are those prizes?
1st Grand Prize: A Kindle Fire or Nook Tablet
2nd Grand Prize: A $50 Amazon or B&N Gift Card
3rd Grand Prize: The following Swag Pack!
In addition, I'll be giving away print copies of two of my books to one of the lucky commenters here on this post.
By the way, all of my books are on sale at Smashwords:
A Question of Fire is 50% off:
https://www.smashwords.com/books/view/43245
Magic, Murder and Microcircuits is 50% off:
https://www.smashwords.com/books/view/100257
The Night Prowlers is 50% off:
https://www.smashwords.com/books/view/131688
And A Vampire's Christmas Carol is FREE!
https://www.smashwords.com/books/view/109662
Check the right-hand column for the codes for the sale books!