Laundry in the morning. It's been really hot here in Rome, and we've gone through clothes much faster than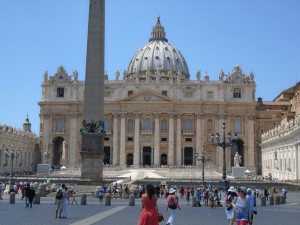 expected, so we needed to do wash some things. Fortunately, there's a small launderette just a block down from the hotel. Following that we got in the line for St. Peter's. It was a long line, snaking more than halfway around St. Peter's square, which actually isn't anywhere near as long as we've seen it at times. The line is just to go through the security checkpoint and it actually moved pretty fast.
What to say about St. Peter's? It's huge and grand and in almost every way larger than life. All the statues, and there are many, range from large to gigantic. Every surface is elaborately decorated, and some of the paintings are amazing. Ceilings and everything in the building, soar upward. The high altar is unlike anything I've ever seen in a church.
Oddly, the very first thing you see as you enter the church is the Pieta, and in many ways it's the most human thing there. The fact that it's at a distance, behind bullet-proof glass, makes it seem smaller than it is. But you don't have to be close to it to see that it's exquisite. Mary's quiet heartbreak as she holds her dead son's body is evident in every detail. Because it was behind glass my pictures of it didn't come out very well but there are plenty of them available.
In fact, for some reasons most of the pictures I took inside St. Peter's Basilica didn't come out well or at all, but I have a few that gives the general idea.
What redeems St. Peter's from mere pomposity is the light and the way it streams into the building from a variety of openings and angles. It picks out details here and there, and lends everything a rich warmth. We had a long, leisurely, early dinner after.