Inspired by Halloween Parties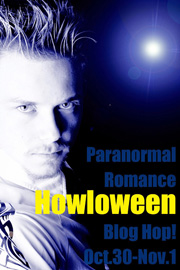 This post is part of the paranormal romance blog hop, sponsored by Hops With Heart.  Read down to the end to find out how you can win prizes.
I should start by saying I'm not a party animal. I'm a long time removed from my college days, and in truth even then I was only a moderate party girl. Like many authors, I'm an introvert, which means I'm usually happier staying home with a book than going out on the town. Which isn't to say I spent all of my college years closeted in my dorm room or apartment.
Halloween is a favorite holiday and there's something particularly fun about parties with costumes. It's kind of freeing to hide behind a mask and become someone else (or something else) entirely. It's a great opportunity to experiment with different personalities. I've experimented with being witchy in black clothes and green face paint and a cowgirl with boots and ten-gallon hat.
I had that in mind when I wrote the Halloween short story, Unmasking. My main character is at a party, accompanied by a ghost – a real one, not a friend wearing a white sheet – and she has a definite purpose for being there.
At one time the story was titled The Thirteenth Hour, but no one quite understood what that meant. Including me. I just thought it sounded kind of cool and mysterious and wonky.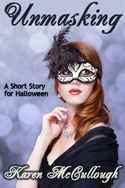 But Unmasking is a better title. The heroine's main purpose in being there is to unmask a murderer. But in the process, she also helps a wrongly accused man come out of hiding and possibly begins to shed the mask of her own armor as well.
And, hey, it's free at Smashwords, 99 cents on Amazon. What are you waiting for?
The Blurb for Unmasking: Trace Handley hates social events of any kind, but she has reluctantly agreed to go to a Halloween party to deliver an important message. Before she can accomplish the mission, though, she has to identify the intended recipient despite costumes, her own shyness, and the dubious assistance of the source of the instruction – a ghost who wants her to deliver his message to the man accused of his murder.
Prizes: Comment on this post to enter for a chance to win an ebook copy of the book of mine of your choice. Enter your name into the Rafflecopter for the grand prize.