England, Days 9 and 10 – High Tea in Oxford and Then Heading for Home
Our last day in England. We were all pretty tired from the adventures of the previous days and ready to take it easier. A final trip into Oxford started with some of us climbing the four flights of stairs to the top of the Saxon Tower of St. Michael at the Gate, the oldest building in Oxford. The top is open and you can get a marvelous view of the city of Oxford in all four directions.
Having gotten our exercise, the day culminated with us in a small, atmospheric café, The Grand Cafe, on the High Street.
From its website: "The site of the first coffee house in England (according to Samuel Pepy's Diary, 1650): The Grand Café has now become an Oxford institution. During the day serving lunch, cream teas and high teas all perfectly at home in the opulence of the marble-pillared, gold-leafed building. At night The Grand Café is buzzing with locals, visitors and Oxford University students, taking advantage of the half price cocktails on offer." More information is available on their website: http://www.thegrandcafe.co.uk/
The place is quite small and the tables crowded close together. We weren't sure we could get Freya's pram in, but the staff helped move a few tables and chairs to make space.
Other than my son, Joe, we all got the High Tea, which featured finger sandwiches (salmon and mayo and cream cheese), scones (with clotted cream and jam), hand-made chocolates, and of course, tea. This was a much more substantial meal than it sounds. The "finger sandwiches" were large enough that just a couple of them were quite filling, especially when paired with a pair of generously sized scones. Scones slathered equally generously with clotted cream. I've become a huge fan of clotted cream. The real thing has the taste of butter with the consistency of whipped cream. The Brits generally pair it with strawberry jam, but I prefer to enjoy the scone and cream unadulterated. The chocolates looked wonderful, but since they couldn't assure me they were nut-free, I had to leave them to my daughter-in-law. I have the kind of nut allergy you don't mess with. It might've been heartbreaking under other circumstances, but by that point I was so full, I really wasn't at all concerned.
The chocolates aside, the meal was satisfying and a real treat. A good way to finish out our trip to Oxford.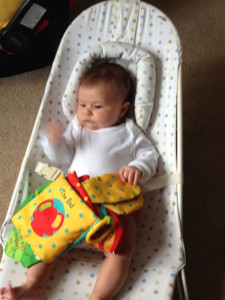 I spent a lot of time in the afternoon and evening cuddling the new granddaughter, knowing it would be the last time for a while. Then we had an early night, knowing we'd have to be up early to get a cab into Oxford Center to catch the airline bus back to Heathrow and then the flight to Raleigh. All of that proved mercifully uneventful.
We bid goodbye to Oxford and England reluctantly, but with a sense that of satisfaction that we'd had a great visit with our son, daughter-in-law, and brand new grand-daughter, and a number of interesting adventures to various landmarks. Considering that we were working around the schedule of a two-month-old baby, we'd packed a lot into the trip.
I'm already looking forward to the English branch visiting here at Christmas and then seeing them again next summer – I hope!