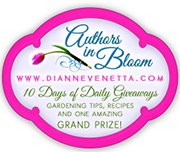 This post is part of the Authors in Bloom Blog Hop. Read to the bottom to see how you can enter to win a number of great prizes!
As part of the hop, I'm supposed to offer a garden or cooking tip. I'm not much of a cook, nor a great gardener, though I enjoy the latter far more than the former.
In the last couple of years I've discovered the joys of container gardening – planting a variety of flowers and foliage in large pots that sit on my patio where I can see them easily through the French doors in the kitchen.
I still do plant in the ground, especially out along the fence in the back yard, but I find myself doing more an more containers these days. They require more attention since they have to be watered almost daily in our hot Southern summers, but the pleasure they supply more than compensates.
I've found that it pays to get the best possible potting soil, usually a brand that includes plant food mixed in for you containers. Then a mix of plants that look good together in the pot. I like to have one central tall, striking plant, a few lower ones around it, and some that trail over the side. It can be a good idea to consult with the people at the garden center for advice on what plants would do well with each other. My patio has sections that get full sun and another area that is in partial shade. Some plants don't do well in one of the area, but will thrive in the other. The geraniums love the full sun, but the impatiens prefer the shady areas, so they never go in the same pots.
I also prefer to buy plants that have already started blooming for this purpose, so I can be sure that the flower colors will complement each other rather than clash.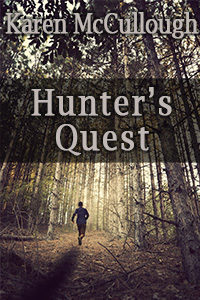 This post is brought to you by most recent romantic suspense release. In, Hunter's Quest, Kristie Sandford's vacation is interrupted when a man jumps out in front of her car. She avoids hitting him, but when she stops to see if he's hurt, he demands she help him escape from the people chasing him. Kristie has an odd "gift"-she occasionally gets warning messages, and she gets one saying he needs her help or he'll die.
Jason Hunter is an SBI (N.C. State Bureau of Investigation) agent working on his own time searching for a friend, an investigative reporter who disappeared while tracking down rumors of corruption in the bureaucracy of a small, North Carolina mountain town. Jason is grateful to Kristie for rescuing him, but dubious when she insists she has to continue helping him. Kristie is attracted to Jason, but the edge of danger she senses in him reminds her too much of the abusive family she escaped as soon as she could. Still, the message said he'd die if she didn't help him, and the messages have been right before.
How to win prizes:
First, I'm offering three free ebook copies of Hunter's Quest to commenters. Also anyone who signs up for my newsletter will get extra chances to win a copy.
Hop Grand Prize: Only those visitors who visit EACH and EVERY stop are eligible for the grand prizes – a Kindle Fire or Nook (winner's choice) along with a 2nd prize of $25 gift card. . Eligibility will be verified by hop's end. Winners will be posted on both the first (Dianne Venetta) and last (BloominThyme) websites.
NOTE: Be sure to leave your email address in you comment so we can get in touch with you if you're a winner!
Other Participating Blogs: