Most people who know me know that I'm a sports fan. I love pro football, college basketball, and baseball in particular.  While watching Major League baseball on TV is fun, I can only take so much of it at a time. But I love going to games.
Unfortunately getting to games at either of the two major league teams nearest to us is hugely expensive. We're just about halfway between Atlanta and Washington, D.C., and we have been to both Braves and Nationals games. But that's a special treat due to the cost of travel, hotels, tickets, parking, concessions, etc.
Greensboro, where I live, has an A-level minor league team in a really nice new ballpark, and going to those games is ridiculously inexpensive and totally fun. mMy husband and I get to as many of them as we can. The baseball isn't always as polished as in the major leagues but it can be exciting and sometimes even wonderful.
The Greensboro Grasshoppers are a class-A affiliate of the Miami Marlins, and we've seen a number of their current players pass through here. Marcel Ozuna, Christian Yelich, and J.T. Realmuto all spent a year playing here. Giancarlo Stanton still holds the South Atlantic League record for home runs in a season and also hit the longest home run recorded in the stadium.
Along with watching future major leaguers play, you can get one-dollar hot dogs and hamburgers on Dollar Monday, one and two-dollar beverages on Thirsty Thursday, and fireworks after most weekend games.
Our team has a few other unique features. The most charming is a set of black Lab dogs who have functioned as ball and bat dogs during games (bringing buckets of fresh balls to the umpire and retrieving bats after a hitter makes contact and tosses his bat aside). That used to be Miss Babe Ruth's job until she retired a couple of years ago and Miss LouLou Gehrig took over.
Another of them, Master Yogi Berra, has been part of the entertainment for many years. He holds the distinction of being the first (and probably still the only) dog to be ejected from a game. After a between-innings game in which he chases a ball while a fan runs the bases, Yogi stopped to do some business on the field and a peeved umpire threw him out. Unfortunately Master Yogi passed away in August from cancer.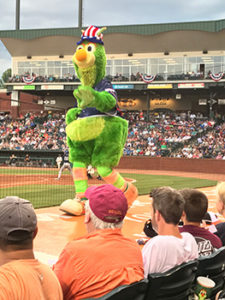 The mascot is a bizarre creature called Guilford the Grasshopper. But the team isn't really named for an insect. Greensboro's main claim to historical interest is that it was the site of the Battle of Guilford Courthouse, a Revolutionary war battle that helped turn the tide of the war and led to Cornwallis's surrender a few months later. One type of small cannon used in the battle was known as a Grasshopper.
Alas, the season is over now. Minor leagues complete their schedule early in September. The good news was that the Grasshoppers won the division in the second half of the season, which put them in the playoff.  The bad news is they dropped two games in a row in the playoffs and were out just that quickly.
But it was a great ride while it lasted and I'm eager for next season.