This is the Authors In Bloom Blog Post. Scroll down to the end to find out how you can enter to win several prizes.
I love working in my garden. This time of year I wait eagerly for the weather to warm up enough to thaw and dry out the ground so that I can start digging and planning what will go into the garden this year.
We have a comfortable division of gardening duties in our household.  My husband does the vegetable garden. I do the flowers. It's fine by me. He likes to eat the tomatoes and peppers more than I do anyway, and I'd much rather spend my time cultivating zinnias and strawflowers, lilies and daisies, anyway.
The one gardening tip I give everyone is to be sure you know what you're planting in your garden. I know from hard experience that it can be a mistake to plant certain things without knowing their habits. A few years ago, my daughter gave me a bunch of spectacular daylilies that had been dug from a friend's garden. Possibly I should have asked why she'd needed to dig up so many since they pulled up to my house with – literally – a pickup truck full of plants. I know why now, of course. Those things spread like nobody's business. In just a couple of years they were trying to take over the entire garden area.
And don't get me started on the morning glories.  My next-door neighbor loves them. I agree that they're very pretty twining across the fence that separates our yards. They're not as pretty when the vines reach out and attempt to strangle every other plant in the garden. And I'm forever pulling up morning glory seedlings!
Other plants I've regretted either planting myself or living close to include periwinkle, yarrow, and a very thorny rambling rose that insists on rambling over everything within twenty feet of the plant.  No I'm not kidding. Even with a trellis that sucker wants to spread out!
And here is one of my very favorite plants in the garden:
Now about the prizes:
GRAND PRIZE: We are giving away a Kindle Fire or Nook (winner's choice) along with a $25 gift card for the same.  We are also giving away a 2nd prize of $25 gift card.  You must visit all the author sites and leave a comment to be eligible.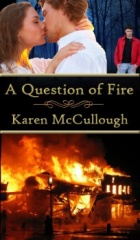 My PRIZE: I'll choose from one commenter here to receive a choice of either two ebooks of the winner's choice from my books available as ebooks or a paperback copy of either A Gift for Murder or A Question of Fire.
Blurb for A Question of Fire: When Catherine Bennett becomes the recipient of a dying man's last words, she also becomes the target of ruthless killers who think she has something they need.
More info for A Question of Fire here.
Be sure to include your email addie in the post so we can contact the winners!
You can find the list of authors participating here: