During the second half of the month of August, we made our way to Hythe, Kent, U.K. to visit our son, Joe, his wife, Steph, and their two children, Freya (4) and James (2).
Mercifully we had no major travel issues on this trip. For the most part flights took off and landed when they were supposed to. Turbulence and other disturbances were minimal. Of course, the flight across the ocean is long and I just don't seem able to sleep on planes, but there were a couple of movies I wanted to see available, and I'd loaded my ereader with several books from authors I knew I liked, so I weathered the journeys reasonably well.
We arrived in a pouring rain and when Joe came to meet us, an accident on the Motorway around London meant we took some extensive detours to avoid the logjam. But by later that day, the rain let up and for the most part we had great weather.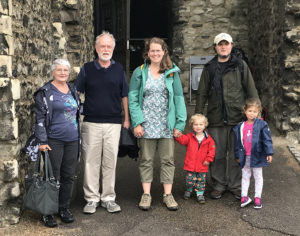 It was wonderful to see everyone again! We had a great visit that involved a lot of walking around the area, a couple of longer day trips to visit interesting places, and spending lots of time talking, eating, and playing with the family.
Steph's parents graciously welcomed us to stay in their home and we enjoyed spending time with them and the comfortable arrangements they provided. It certainly made the trip easier on all of us.
You can read my musings on how wonderful it was to be able to walk to so many places at the Classic 'n' Cozy Blog here.
More details on some of the side trips we took and a few odd details of the visit to come. Stay tuned.