Despite all my positive words about how much I love writing and doing blog tours, as I'm working on this tour, I realize how time-consuming and mind rattling it really is.
Because I have this great compulsion to hurry up and get things done, instead of only doing a bit at a time, I find that impossible. When a big job like putting together a blog tour is on my to-do list, nothing will do except to get busy and tackle it.
And it's not just blog tours, it's any big project that I have on my list. Oh, I didn't mention my list before?  I've always kept a list and it has on it everything I need to do, from the most mundane to my writing projects. I didn't realize what a compulsion that is until my great-granddaughter who is four and likes to copy things I do, came to show me her list. Her mother helped her write it. She had a lot more fun things to do on hers than I have on mine like visit Trinity, tumbling class, watch her favorite TV show.
Frankly, I won't be able to relax until all my blog posts are sent out to my hosts along with a picture of the cover and one of me. Then I probably won't relax, but I can work on something else until the time comes for the tour to begin.
Since this post is nearly at the end of the tour, by the time you read this, I'll nearly be through.
I hope everyone who follows along will either be entertained, learn something new about me or my writing, and/or be intrigued enough to want to read either the new book in the Rocky Bluff P.D. series, Unresolved, or one of the earlier ones.
Do any of you other authors keep lists and have a compulsion to hurry up and finish what's on your list?
F. M. aka Marilyn Meredith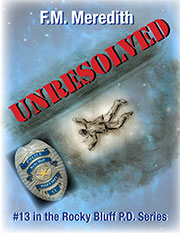 #13 in the Rocky Bluff P.D. series, Unresolved Blurb:
Rocky Bluff P.D. is underpaid and understaffed and when two dead bodies turn up, the department is stretched to the limit. The mayor is the first body discovered, the second an older woman whose death is caused in a bizarre manner. Because no one liked the mayor, including his estranged wife and the members of the city council, the suspects are many, but each one has an alibi.
Copies may be purchased from Book and Table by emailing bookandtablevaldosta@gmail.com with a 10% discount and free shipping as well as all the usual places.
Bio: F. M. Meredith lived for many years in a small beach community much like Rocky Bluff. She has many relatives and friends who are in law enforcement and share their experiences and expertise with her. She taught writing for Writers Digest Schools for 10 years, and was an instructor at the prestigious Maui Writers Retreat, and has taught at many writers' conferences. Marilyn is a member of three chapters of Sisters in Crime, Mystery Writers of America, and serves on the board of the Public Safety Writers of America. She lives in the foothills of the Sierra. Visit her at http://fictionforyou.com and her blog at http://marilymeredith.blogspot.com/
Webpage: http://fictionforyou.com
Blog: https://marilynmeredith.blogspot.com
Facebook: https://facebook.com/marilynmeredith