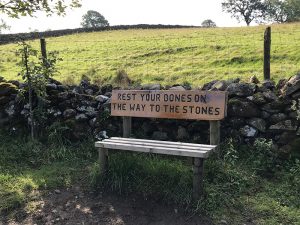 The weather for our first full day in Keswick was spectacular, sunny and clear, so we decided on what looked to be a fairly easy walk to the nearby Castlerigg Stone Circle.  Getting there via road was only a three-quarter mile hike, easily do-able for all of us. We didn't count on the fact that it was uphill all the way and fairly steep in places. Plus the temperature climbed into the very warm range. We all made it, with a bit of grumbling from the children and a few rest stops along the way.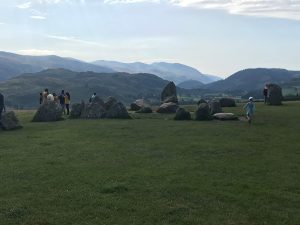 But the destination was most definitely worth the journey. Castlerigg Stone Circle is one of the oldest stone circles in Brittain, and possibly the oldest, dating to around 3000 BC. The stones aren't overwhelmingly huge like the ones at Stonehenge, but unlike more famous sites, you can actually walk into and around the circle, touching and examining the large stones up close. Several groups of people were taking pictures of themselves on and around the stones.
Since the circle sits on top of a hill, it offers stunning views of the surrounding mountains and lakes. It also offered several lovely mud puddles for James, 3, to stomp around in. Wisely his mother had him wear his Wellies for this trip.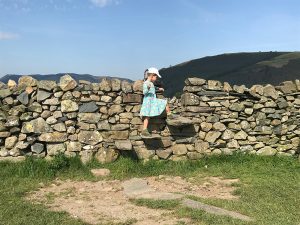 We spent quite a while checking the circle and the views from various directions before we set out to return to Keswick via a longer cross-country footpath. We left via a unique stile comprised of a series of stone ledges canterlevered out from the stone wall at different levels to form a stone staircase to a gap in the wall and then down a series of rock steps on the other side. The route led gently downhill through sheep and horse pastures, across streams and eventually via a café where we stopped for lunch.
We got back to Keswick mid- to late-afternoon, did some grocery shopping and wound our way slowly back through town to the house to fix dinner. We passed some pleasant time on the veranda, looking out over the river and enjoying playing games with the children and enjoying the view into the evening.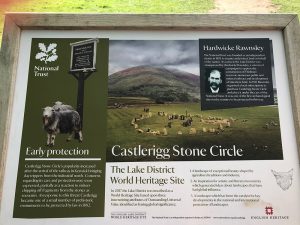 The return trip took us cross country and through fields where bored horses, sheep, and goats mostly ignored us.