This post is part of the Snarkology Halloween Blog Hop.
 Read to the bottom of the post to find out how to qualify for some nice prizes.
I love decorating for Fall. You can let your imagination take you wherever you want to go- as cute, cozy or creepy as you want. And as someone who writes paranormal and Gothic-tinged stories, Halloween is a favorite holiday.  I'm not the world's most crafty person, but I do enjoy making fun decorations.
Pinterest is a great source for ideas. I can spend hours and hours trolling that site.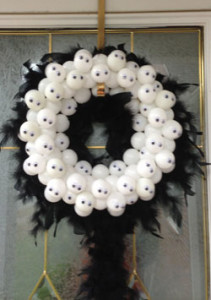 The ping-pong ball wreath was an idea my daughter found on Pinterest. The two of had a girl's day out buying the materials and putting together the wreaths.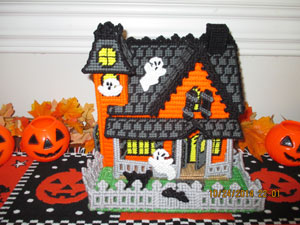 I made this plastic-canvas needlepoint haunted house years ago.  I still love it and get a little thrill every year when I get it out of storage.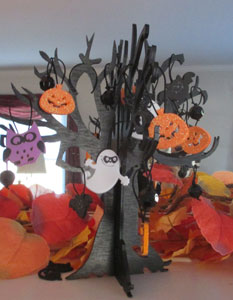 The little tree on my mantel was just something I found at Michael's.  I used Halloween foam cutouts and black beads for the decorations. I'd really like to find some more different little doodahs to hang on the tree.
I'm open to suggestions.
This post is sponsored by my two Halloween stories.
Guardian of the Grimoire is a Fall-set novella on sale until Oct. 31 for just 99 cents!
Amazon   Nook   Smashwords
More Info
Unmasking is a Halloween short story. It's free at Smashwords and 99 cents on Amazon.
Amazon   Nook   Smashwords
More Info
Prizes: Comment on this post to enter for a chance to win an ebook copy of the book of mine of your choice. Enter your name into the Rafflecopter for the grand prize.