Doing research for my book No Time for Regrets, I made virtual visits to several places I remember well from actual visits in my childhood and later as a young adult. One of the first places my characters visit is The American Museum of Natural History, located on the western side of Central Park. A school outing there is one of my earliest memories of a trip into "the city." The trip itself I barely remember other than that it involved several school busses full of children, but of the museum itself I have some very vivid images.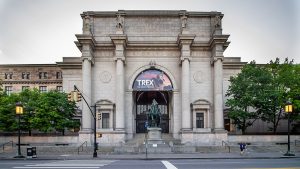 Entrance to the American Museum of Natural History
Photo Credit: Ajay Suresh from New York, NY, USA / CC BY (https://creativecommons.org/licenses/by/2.0)
Like most kids, I spent a lot of time gawking at the dinosaur skeletons. They were awesome and terrifying, with those huge frames, and scary teeth and claws. I also remember seeing an enormous meteorite and a diorama showing a primitive family around a campfire.
I could barely take in the size and extent of the place, just like my hero and heroine when they visit. One day can only just scratch the surface of what the place offers. On my school visit, we also saw a show at the Hayden Planetarium and that is among my clearest memories. Watching the way the projected stars moved around on the dark ceiling of the huge dome sparked an interest in astronomy that has persisted to this day.
Now it's possible to visit the museum online and take various virtual tours. There's so much available to see that way, I almost got lost in it again as I was researching for the book, and nearly forgot why I'd embarked on the journey.
The museum has a number of video tours and highlights available at its website: https://www.amnh.org/explore
Here's a highlight tour: https://artsandculture.google.com/partner/american-museum-of-natural-history
Dinosaur picture: Giorgio Galeotti / CC BY (https://creativecommons.org/licenses/by/4.0)
Crystal: DerHexer, Wikimedia Commons, CC-by-sa 4.0 / CC BY-SA (https://creativecommons.org/licenses/by-sa/4.0)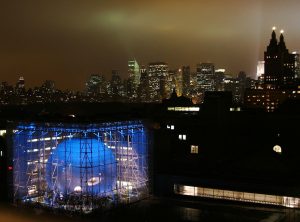 Hayden Planetarium
Photo Credit: Alfred Gracombe / CC BY-SA (http://creativecommons.org/licenses/by-sa/3.0/)