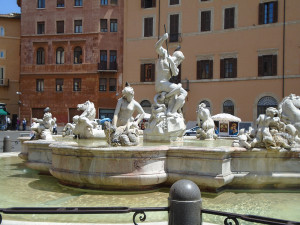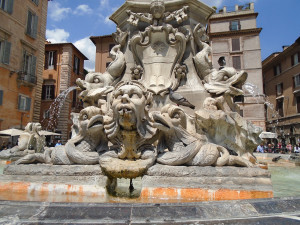 Fountain Statues in Piazza Navona
On Day 2 of our stay, we started off by taking a tourist bus tour to see the major sites of Rome , which made sure we didn't miss anything important.  We drove past the Spanish steps, Santa Maria Maggiore, the Colosseum, Palatine Hill, Circus Maximus, Piazza Venezia and a few others.
We got off at the last stop right before the Vatican and set off through the old town ourselves. We headed toward Piazza Navona and spent some time poking around it.  We found a little shop selling beautiful leather, paper and glass products and bought a few things. Stopped at a small gelateria on a corner of the piazza and had gelato.
From there we walked to the Pantheon, which was originally a temple to all the gods, and has since been converted to a church. Very interesting interior. We then went around behind it and found ourselves in the only Gothic church in Rome, Santa Maria sopra Minerva, so named because it was supposed to have been built on the ruins of a temple to Minerva. It doesn't look gothic from the outside. In fact it
barely looks like a church from the outside, but the interior is amazing. It includes a wonderful collection of Italian art, and contains the casket of Saint Catherine of Siena. It's most impressive piece is a statue of the Risen Christ, which was begun by Michelangelo. We spent quite a while in the place.
Came out and from there headed to the Trevi Fountain. Unfortunately for us, it's being repaired, so there was no water and half of it was covered in scaffolding. We could see enough to get the idea of what a gorgeous monument it is, though I'm sure the water makes it amazing.  Oh well.
It was hot (really, really hot) and getting on to midafternoon by then, so we started heading back to the hotel, but stopped at a small Osteria for snacks and drinks. We knew it was the right choice when we discovered a large display of watermelon. We bought a good-sized chunk along with a banana, a couple of espressos and several cold drinks. The owner of the place led us back to a private parlor in the back, which had an air conditioner, more comfortable chairs and a rest room.  Perfect!
Energized by the break, we continued on our way back to hotel. Since we were walking right by it, we stopped at Castel Sant'Angelo and went in.  Lots of steps up and up, going past a few displays of medieval and renaissance weapons, and a serious travelling art exhibition, and finally made it to the uppermost level, the angel courtyard, which sits just below the angel on the top of the castle.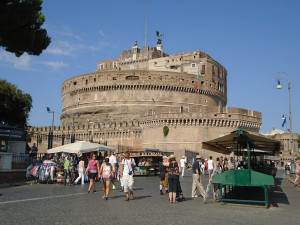 The place was fascinating, but we were starting to flag. Headed back toward the hotel, but stopped at a little bar/restaurant which had a nice buffet. The waiter was a character. He adored Freya and brought her a few extras. He told us he was a "historical waiter." He's been in the job for 25 years, following an 18-year military career. We ate a lot, had drinks, got ripped off a bit on both food and wine, but the waiter was so entertaining, we didn't mind.