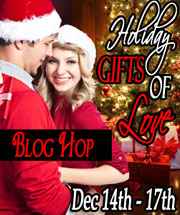 This post is part of the Holiday Gifts of Love blog hop. Scroll down to the end of information about prizes available and other participants.
Regular readers of my blog know that my mother passed away recently. One of the hardest things we had to do after her death was to clean out her apartment.
She'd already started her Christmas preparations, including some shopping. We found several things she'd bought that were obviously gifts and had to try to decide who she'd intended to give them to. Some were obvious, some less so, but we did manage to get those distributed as best we could.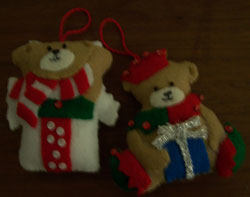 What almost broke our hearts, though, was finding the box of embroidered felt Christmas ornaments she'd made. We knew exactly what they were. Every Christmas, each major gift she gave would have one of those little ornaments attached to the bow or ribbon. My tree has a collection of them saved from over the years.  We divided them up so each family member would get one, the last ornament each of us would have from her.
They were small things, but each one was crafted by her and given with love. Those ornaments are treasures that will remind me of her each year when I bring them out and hang them on the tree.
What is your most treasured Christmas decoration and why?
Now for the promo part…
Can Christmas Eve get any more fun? On her way to her family's home, Carol Prescott's car slides into a ditch in a deserted area with no cell phone signal. The only available shelter is already occupied…by a vampire. To Michael Carpenter, Carol is the bait of a trap.
In an effort to hold onto his soul, Michael has resisted the urge to drink human blood for almost a century. Now he hovers between human and vampire. If he doesn't drink from a human before the night ends, he'll die. He's desperately thirsty, but Michael has seen the soulless monsters vampires are and he prefers death. Carol is pure temptation to him, the Christmas present from hell…or is it from heaven?
Just $.99 for this Christmas vampire novella!  Buy:  Amazon Kindle Nook Smashwords
Finally – about the prizes:
One commenter here will win their choice of ebook from all of my books available in ebook form.
There ae also a number of prizes available as part of the hop:
More info on the blog hop available at: http://carrieannbloghops.blogspot.com/