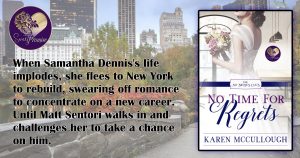 To experience the heart and the essence of New York City, you want to walk Fifth Avenue from its origin at Washington Square Park northward through Harlem all the way to the Harlem River that marks the northern border of Manhattan. The Avenue basically bisects the city lengthwise, with postal addresses going west and east from it.
It's a long walk but well worth the effort. I've never done the entire thing, but I have done parts of it on several occasions. I've started as far south as 22nd street, site of the iconic Flatiron building, which is where my characters in No Time for Regrets start their trek.
On the trip, they pass the Empire State Building, the New York Public Library, Rockefeller Center, and Saint Patrick's Cathedral, among many well-known brand-name stores and other classic buildings.
They stop around 59th street, in sight of the Plaza hotel that sits near the Southeast corner of Central Park. I've gone farther than that, enjoying gawking at the glorious buildings facing the park, most of which are either apartments or homes of the rich and famous, since it's some of the most expensive real estate in the world. My last walk ended at the Metropolitan Museum of Art, a grand and wonderful place that figured in my previous No Brides Club book, No Time for Surprises.
You can get a good overview of the entire avenue here: https://en.wikipedia.org/wiki/Fifth_Avenue
There are nice views of some of the most iconic places, brands, and buildings in this video that gives a pretty decent sense of what it feels like to walk along the avenue. Although I have to say that it's always been more crowded than it appears here every time I've been there.
https://www.youtube.com/watch?v=fCdwFgeO2o4
St. Patricks Cathedral
Exterior and Interior Photo Credit: PortableNYCTours / CC BY-SA (https://creativecommons.org/licenses/by-sa/4.0)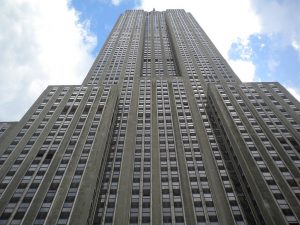 Looking Upward at the Empire State Building
Photo Credit: PortableNYCTours / CC BY-SA (https://creativecommons.org/licenses/by-sa/4.0)
Views of Rockefeller Center
Photo Credits: User: Stilfehler at wikivoyage shared / CC BY-SA (https://creativecommons.org/licenses/by-sa/3.0); UpstateNYer / CC BY-SA (https://creativecommons.org/licenses/by-sa/3.0)